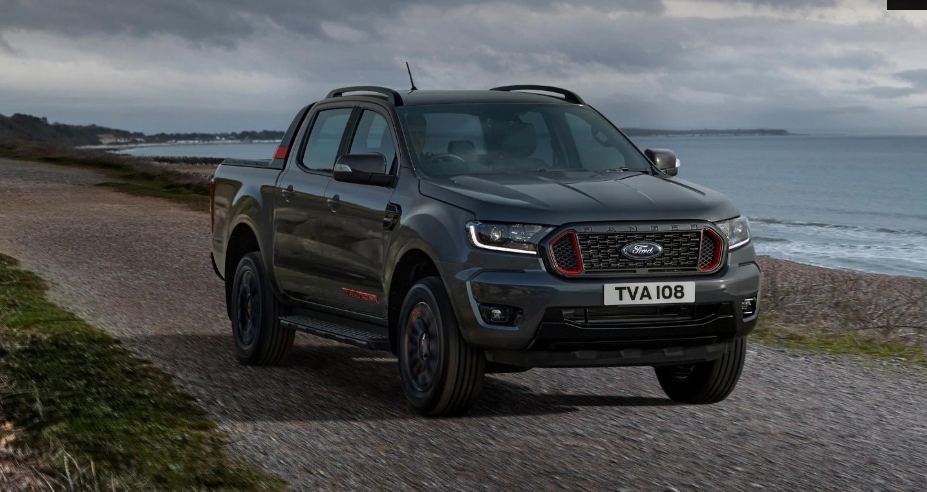 New Ford Ranger Thunder
Limited to just 4,500 examples across Europe, Ranger Thunder adds exclusive interior and exterior design to the 2020 International Pick-up Award-winner as well as popular practical options as standard, to deliver SUV-like style and comfort alongside generous load carrying and towing capability.
Powered by Ford's Bi-Turbo 2.0-litre EcoBlue diesel engine offering 213 PS and 500 Nm of torque, Ranger Thunder also features as standard Ford's 10-speed automatic gearbox for smooth shifting and effortless performance on- and off-road.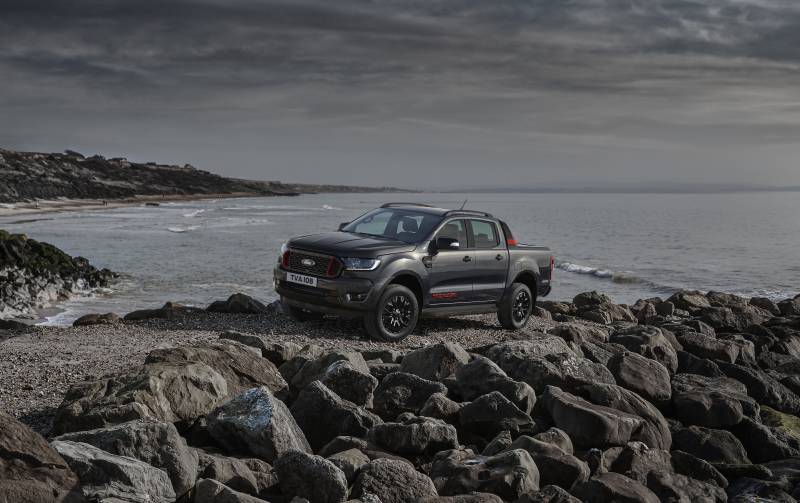 A powerful presence
The New Ranger Thunder pick-up truck is built to get you noticed. We've taken the capability and versatility of the Ranger Wildtrak and given it a powerful, exclusive new look. The pick-up truck features signature red Thunder details, including accents on the imposing new black mesh Ranger Thunder grille. A bold Sea Grey paint job makes sure the red stands out. While unique 18" alloy wheels, black side steps, and 3D Thunder badging tie everything together to create a premium design that demands your attention.
LED headlights with darkened bezels are also standard, with darkened taillight bezels at the rear. The Ranger Thunder includes a load bay bedliner and Black Mountain Top powder-coated roller shutter – both popular options with Ranger customers. A practical new load bay divider is also featured for the first time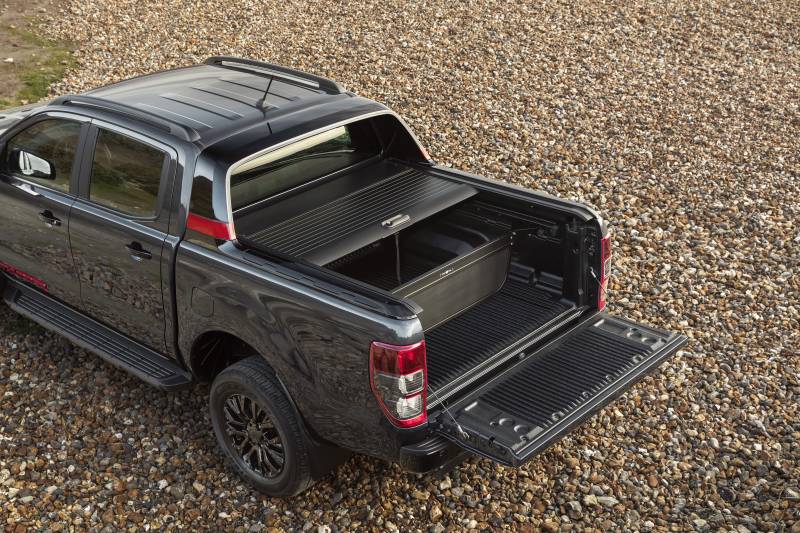 Let it surround you
Step up and take a seat in the eye of the storm. A raised driving position, clean design, and premium materials combine to deliver a feeling of power and refinement. Quality partial leather seats ensure you're sitting in comfort, wherever your journey takes you. And red contrast stitching throughout the cabin, with the signature Thunder emblem on the seats, help to unify the interior and exterior designs of this premium pick-up truck.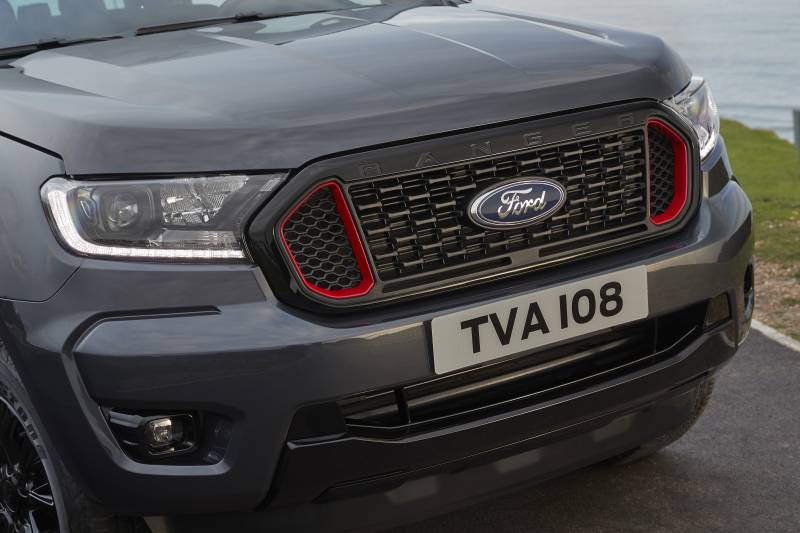 Proven powertrain
The Ranger Thunder's powerful Bi-turbo 2.0-litre EcoBlue diesel engine offers outstanding pulling power, using twin turbochargers in series at lower engine speeds for enhanced torque and responsiveness, and bypassing the smaller turbocharger at higher engine speeds to provide maximum boost from the larger turbocharger for peak power.
Ford's 10-speed automatic transmission offers performance and durability proven in applications as diverse as the Ford F-150 pick-up and Ford Mustang. The transmission features a wide spread of ratios and real-time adaptive shift-scheduling that adapts to changing conditions – enabling the optimal gear to be selected for performance, fuel efficiency or refinement in any driving scenario.
Ranger Thunder features Ranger's proven four-wheel drive system for highly competent off-road capability and will deliver fuel efficiency from 7.8 l/100 km and CO2 emissions from 205 g/km (NEDC), or 9.1 l/100km and 239 g/km (WLTP).
Want to know more about Ranger Thunder? Why not contact us here
Latest News
01-04-2022
Are you looking to treat yourself to a new car or upgrade your existing one?…
Read more >
10-03-2022
Cuff Miller has been working as a community hub, receiving donations from across…
Read more >
17-12-2021
We've received a fair few questions about the Fiesta ST that has…
Read more >