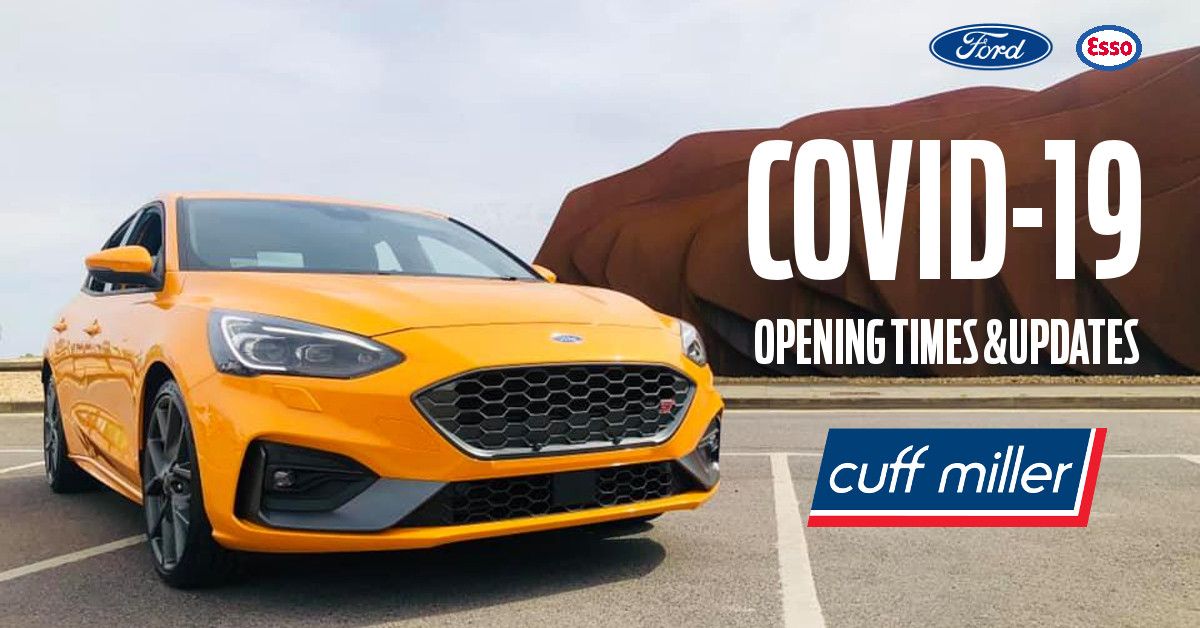 Cuff Miller Coronavirus (COVID-19) Update
COVID-19 CORONAVIRUS UPDATE
Please see our update below regarding opening times and service availabilty.
Cuff Miller is a Covid-secure business. We are continually working to keep everyone safe.
Garage facilities (Service, MOT and repairs) remain open with slightly reduced hours.
The Fuel Station Forecourt is open.
Our sales showroom is open. You can also view our used vehicles and reserve online for only £99.
SERVICING, MOT TESTS AND REPAIRS
Cuff Miller Service is fully open, working on an appointment basis. Prebooked work will continue as planned and you will be able to make a booking as normal for work by phone on 01903 714367, opt 2 or online at cuffmiller.co.uk/servicing.
Please call ahead and make an appointment before visiting. Unfortunately we are not currently able to offer walk-in or waiting appointments on site.
Opening times
07:30 – 17:30 Monday-Friday
08:00 -12:00 Saturday
FUEL STATION
The fuel station forecourt remains open, however may be operating reduced hours.
Opening times
06:00 – 20:00 Monday-Friday
07:00 -19:00 Saturday
08:00-19:00 Sunday
CAR SALES
View our used stock here at any time and reserve your next car online for only £99. Ask us about Click and Collect!
Opening times
Showroom
09:00 – 17:00 Monday-Friday
09:00 -17:00 Saturday
CLOSED Sunday
Our Coronavirus Measures
We have put several measures in place in order to safeguard both you and our team at every stage of your visit to us, including social distancing measures, revised and increased cleaning procedures and new internal processes.
Please remember to bring your mask or appropriate face covering and wear it when visting the site, as required by law. (If you are unable to do wear a mask please call on 01903 714367 before visiting so that we can advise how best we can assist you in a safe manner).

We have produced the following short videos for your information
(Please note that these videos were filmed before later guidance regarding the mandatory wearing of face coverings. Please ensure you wear a compliant face covering when visiting the site)
Guidance on visiting Aftersales
Guidance on visiting our Fuel Station
We would like to wish you, your friends, families and colleagues well during these unprecedented times and we hope you are keeping safe and healthy. We have worked incredibly hard behind the scenes with the health and safety of our team and you, our customers, forefront in our minds.
We understand that we are living in difficult times for everyone, so please bear with us as we introduce and refine new processes that will keep us all safe, and if you have any suggestions or feedback regarding our processes please do get in touch.
OPENING TIMES
| | | | |
| --- | --- | --- | --- |
| | Sales Enquiries | Service & Parts | Fuel Forecourt |
| Mon – Fri | 09:00-17:00 | 07:30-17:30 | 06:00-20:00 |
| Saturday | 09:00-17:00 | 08:00-12:00 | 06:00-20:00 |
| Sunday | Closed | Closed | 08:00-19:00 |
Frequently asked questions
Are you open for fuel?
Yes, our Fuel Station is now open, operating on the times posted above.
Is Car Sales open?
Our showroom is open as of 12th April. You can also make Sales enquiries by calling 01903 714367 or via email.
What if I need an MOT?
We are booking for MOT tests please contact the Service Department on 01903 711911 or by email.
My vehicle is overdue a service, will servicing my vehicle late affect my manufacturers warranty?
There is already a tolerance of 1 month/1000 miles in place for servicing. This has been relaxed to beyond one month to allow for closure or isolation. The maximum grace for mileage remains at 1000 miles.
My warranty is due to end, but I have noticed a fault, what should I do?
Please contact the Service Department on 01903 711911 or by email
I'm worried about making payments for my vehicle (Vehicles financed by Ford Credit)
Ford Credit are offering flexibility with regards to making payment for your vehicle. This may include a payment 'holiday' and/or extension of you contract.
If you think you may not be able to make a payment, please contact Ford Credit here https://www.ford.co.uk/finance/support/contact-us
I'm due to replace my Motability vehicle or are looking to start on the scheme.
The Motability scheme is open, find out more here.
Latest News
14-07-2021
The Open Road Calls Whether you're looking to improve your family…
Read more >
01-02-2021
We recently announced that the all-electric Mustang Mach-E was available to…
Read more >
25-01-2021
INTRODUCING THE MUSTANG MACH-E. NOW AVAILABLE FROM CUFF MILLER The…
Read more >